FINALLY, AN EASY (AND STYLISH) WAY TO

DEEPEN YOUR RELATIONSHIP

WITH GOD!
Wear
His

Promises On

Your Wrist

.
⭐️⭐️⭐️⭐️⭐️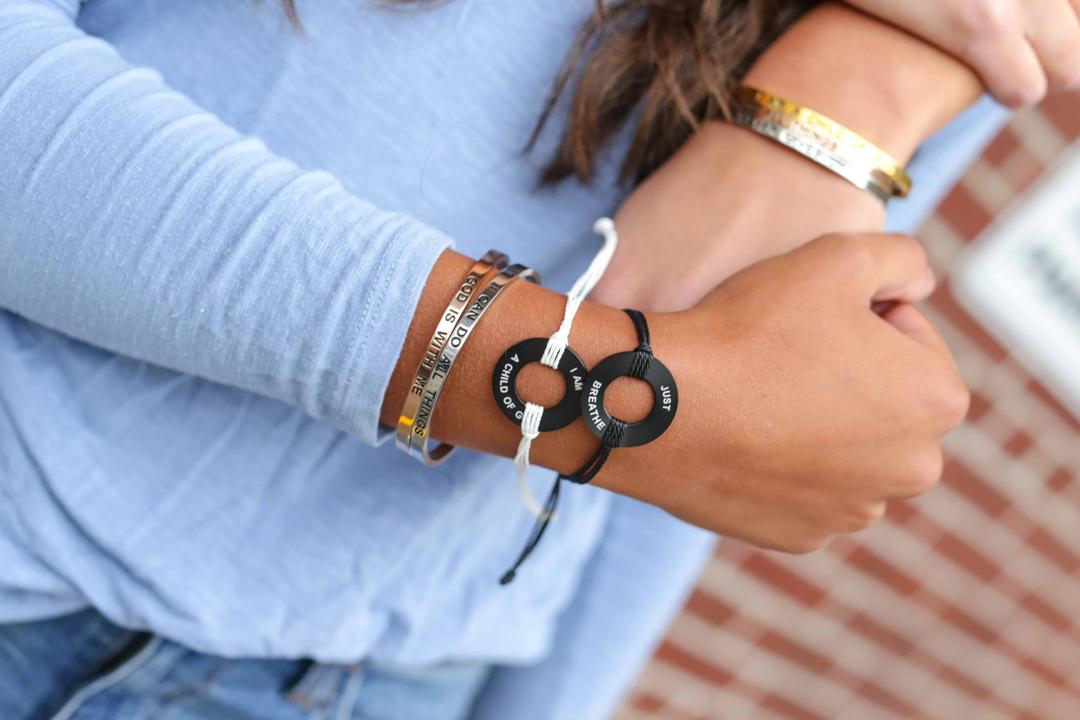 FINALLY, AN

EASY (AND STYLISH)

WAY TO

DEEPEN YOUR RELATIONSHIP

WITH GOD!




Wear His Promises On Your Wrist.

⭐️⭐️⭐️⭐️⭐️














Can Wearing A Bracelet Really Strengthen Faith?
Our biggest problems as believers are spiritually rooted. 
Ephesians 6:12 says "For our battle is not against flesh and blood, but against the rulers, against the authorities, against the world powers of this darkness, against the spiritual forces of evil in the heavens."
Your enemy wants you to forget you are a child of God.  He wants you to feel alone, anxious, and scared.
Nothing weakens our faith more than a case of sudden amnesia.  When we forget who we are in Christ, we MISS out on the POWER of God's promises.
God knows we forget
God understood the people He rescued and protected and blessed — could forget about Him when things were good or doubt His love when things got hard.
He told them to wear His words as reminders. 
Faithlets brings these reminders to our lives today, every day. 
Do you know the word 'remember' is used
159 times

in the Bible?
In ancient days, Believers used to wear verses on their wrists. They didn't wear them for good luck or to get magical powers. They wore verses to make sure they NEVER forgot God's promises and to share their faith with others.
😔Why have we stopped doing this?
That's why we created Faithlets.  A Faithlet is a message…the reminder, not who we should be.  But, who we ARE and who we are BECOMING.  
A Faithlet isn't about what we shouldn't do, but what we CAN do. It reminds us to live CHANGED.
We want Christians to remember being a child of God means we have a peace, rest, security, and a new family.🙏
FAITHLETS ARE AN

EASY WAY

TO SHARE YOUR FAITH WITH OTHERS!
"I absolutely love my faithlet! It's so pretty and reminds me everyday to never forget that Jesus is in control and has me in his hands! Thank you so much Faithlets!"
"Haven't taken it off since I received it. I wear it in the shower and sleep with it on. It's a daily and constant reminder that God is always with me."
Are Faithlets adjustable?

SIZE - Encircle Faithlets are fully adjustable and will fit most wrist sizes. Simply pull on the strings to change the size.

CARE.  To clean, wipe with a soft cloth. Avoid frequent contact with strong chemicals, such as detergents, bleach, perfume, etc… Store in jewelry box or soft cloth. As the faithlets are made from tarnish and corrosion resistant stainless steel they can be worn in the shower without any problems.

Are they water resistant?

Water resistant: Dive in! Your cuff will hold up. Pools and lakes are safe. For maximum longevity we suggest removing bracelet before swimming in the ocean.


The idea of Faithlets is indestructible, but sometimes the actual Faithlet isn't. Even though they are durable and ready to endure (almost) anything, sometimes accidents occur. No matter what happens we will cover your Faithlets product with our 37 year NO QUESTIONS ASKED Warranty!