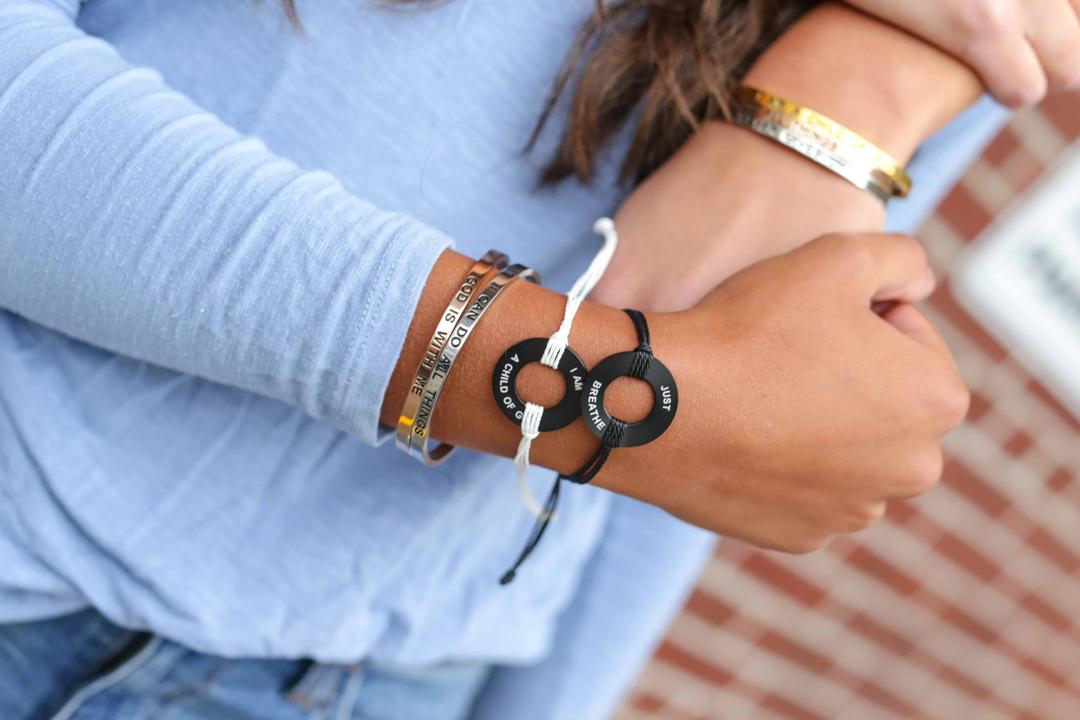 I AM A CHILD OF GOD

- Encircle Faithlet

⭐️⭐️⭐️⭐️⭐️
"Amazing how this simple little Faithlet and the 6 words written on it keeps me focuses on God and my walk with him."

"What marvellous love the Father has extended to us! Just look at it - we're called children of God! That's who we really are…"  I John 3:1
Wear a daily reminder of God's promises!  Never forget you are a child of God.
100% No-Risk Money Back Guarantee

⭐️⭐️⭐️⭐️⭐️
"Amazing how this simple little Faithlet and the 6 words written on it keeps me focuses on God and my walk with him."

"What marvellous love the Father has extended to us! Just look at it - we're called children of God! That's who we really are…"  I John 3:1
Wear a daily reminder of God's promises!  Never forget you are a child of God.
5 Awesome Benefits of Being a Child Of God
Knowing Who You Are Can Help You Have a

Stronger

,

Deeper Faith
1.
You're Never Alone
God is always with you.  "God loves each of us as if there were only one of us". - Augustine

2.
You Can Do All Things
If we let God fill our weakness with His power, then we can do all things.  "If God is your partner, make your plans BIG!" D.L. Moody

3.
You're Part Of God's Family
You now have family all across the world.  "In God's Family, There are no outsiders, no enemies." - Desmond Tutu

4.
You Have Purpose
As a child of God, you have been given purpose.  "There is no one who is insignificant in the purpose of God" - Alistair Begg

5.
You have Hope, Peace, and Security
God is the creator of everything.  His power is infinite.  And, God is on YOUR side.  "And you will feel secure, because there is hope; you will look around and take your rest in security." - Job 11:18

Why We Created

Faithlets
Like you, we often struggled to remember how special we were to God.   And we desired a closer, deeper relationship.
After reading the verses in Deuteronomy, the answer was obvious.
Each Faithlet has a message, a promise from God. On the inside, is the Bible verse where the promise is found.
We know for 99% of the population, a Faithlet is just a stylish looking bracelet.
But for the believer, a Faithlet is much more than that. It's a beautiful way to help strengthen your faith.
What can wearing a Faithlet do for you?
The answer depends upon what type of person you happen to be.
If you are not struggling with trying to be perfect…if you never question your faith or feel guilty because you don't have all the answers…if you've never felt like a hypocrite who doesn't deserve God's love…if you have no difficulty sharing your faith with others…or you remember to make adequate time to spend with God…then forget about Faithlets. It can't do a thing for you.
If, on the other hand, you are the kind of individual who wants to have a close personal relationship with God but need a reminder of how precious you are to Him…if you wish to be reminded of your purpose and make a difference in this world…if you are want to be deeply committed to your faith…
Then wearing a Faithlet may well be what you need to help remember God's promises and supercharge your spiritual walk.
Encircle Faithlets are handmade, waterproof and totally unique—in fact, the more you wear it, the cooler it looks. Grab yours today for
only $13.95
and live changed.